What is the difference between SMO & SMM?
Social Media Optimization, often known as SMO and SMM, is a crucial component of Digital marketing that enables businesses to expand their reach across a variety of available platforms. Social networks like Facebook, Twitter, LinkedIn, YouTube, and others. Social media has given the idea of marketing a new dimension of "communication" and "engagement." Social media has shifted into the centre of every company's marketing strategy, whether they are Fortune 500 corporations or fresh, new start-ups.
What is SMM?
We focus on posting updates, running social media campaigns, providing customer care on social media, and engaging in branding activities as part of our long-term social media marketing strategy. SMM begins when SMO ends, despite the fact that many of you may think of SMO as a component of SMM. Here are some of the most important techniques of SMM, we follow:
Social media strategy
Competition analysis
Social media style guide
Social media content calendar
Engaging with the audience
Monitoring the right metrics
What is SMO?
The term "social media optimization," which was coined by Rohit Bhargava, refers to a lengthy process in which you must improve your website and web pages in order for them to function best on social media. At Substance Communications, we have a detailed procedure for optimising social media. The following are some of the most significant SMO strategies that we follow:
Adding social widgets
Installing social sharing buttons
Initiating social sign-ins
Starting social interaction
Creating shareable content
Sharing content regularly
Optimizing the social pages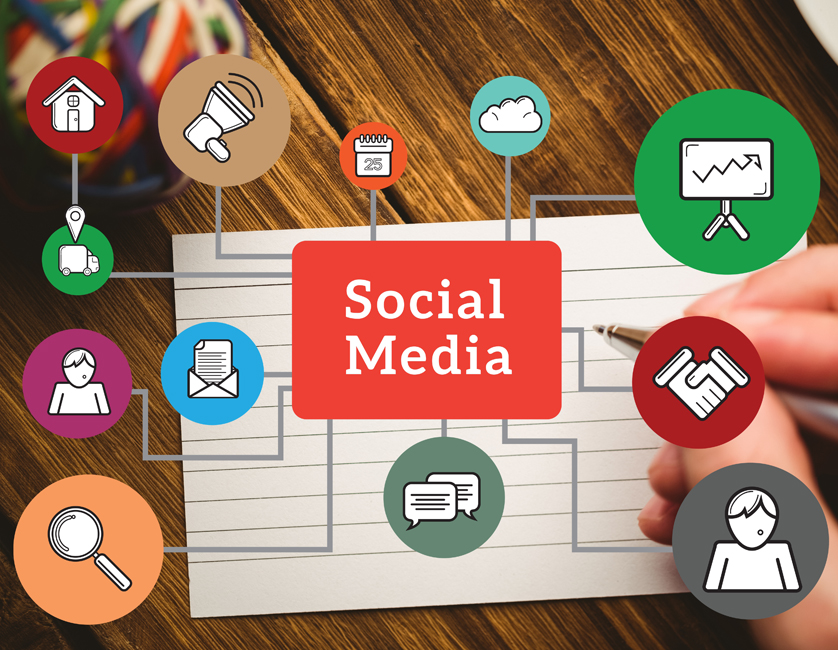 How to do SMO?
Now you must be thinking how I should make my SMO marketing more effective. Don't worry here are some tips which will guide you on what to do and how.
Focus on keywords: You must align your keywords with social media to provide your social media profiles the most exposure possible. The use of keywords is crucial. You need to develop a stronger social media strategy if you are not correctly maximising your social profiles. You must cleverly incorporate your keywords and target key phrases into the specifics of your social media profiles or pages, such as the page name or business information. However, make sure you do it naturally to avoid coming off as spam and commercial. Including foundational keywords on your page will increase your exposure in Google keyword searches and help you perform better in social network searches.


Optimize your posts for searches: You must optimise your posts for searches if you want to increase their visibility and audience. For your content to gain more engagement, it needs a solid anchor. It may take the form of an informative infographic, a video, a link to a thorough case study, or an article.


Share quality content: The Google Algorithm has undergone a lot of modifications. But the significance of high-quality content has remained a constant since the inception of SEO. You must regularly create and distribute high-quality content if you want to improve your website's position. Social media is no different in this regard. You must share high-quality information on your social media platforms that is valuable to the audience. Your postings can be educational, funny, or informative as long as they bring value to your audience. If they do, you'll see that a lot of people are drawn to your brand.


Micro-Blogging: Micro-blog postings, in contrast to ordinary blog entries, are just tiny blogs. They are meant to convey brief information or links to articles, videos, photographs, or any other type of news updates or advice. They are normally one or two sentences long.


Micro-blogs can be used as a source of content for popular social media posts. The best feature is that, depending on the type of micro-blogs, they can be manually or automatically directed to social networking networks.
Why work with Substance Communication?
Substance Communication is best SMO Company in Delhi and India. SMO is one of the many digital marketing services we offer. Because we are aware that every business has a restricted marketing budget, we have taught our professionals to mix search engine optimization with social media optimization to produce the best results. Contact us without hesitation if you have any questions; we are here to help! Finally, there is no denying that social media has a direct impact on how each website ranks in search engines. Your reach, brand identification, popularity, and overall online presence are all significantly impacted by your social media efforts, which serve as an extension of your SEO strategies.keep consumers satisfied enough to return. Give a website its best chance of success by starting with the suggestions in this article and working toward improving website performance.