Top 10 Digital Marketing Trends 2023
It may be challenging to stay on top of the trends in the rapidly expanding world of digital marketing. To maximize results and keep aware of the competition, marketers in today's rapid corporate climate must be knowledgeable of new digital marketing trends for 2023.
The top digital marketing trends listed below might aid in the expansion of your company.
Rising Top 10 Facts for Marketers to Know About Digital Marketing Trends for 2023
Influencer Marketing
One of the digital marketing tactics is influencer marketing where companies collaborate with people who have a strong social media following to sell their goods and services. It is one of the best future digital marketing trends that would be on the top in the coming days. It enables businesses to expand their social media outreach and strengthen their brand awareness.
Influencer marketing is a successful strategy for reaching the general public since India has a sizable youth demographic. Influencer marketing not only reaches a large audience but also helps firms build reputation and confidence.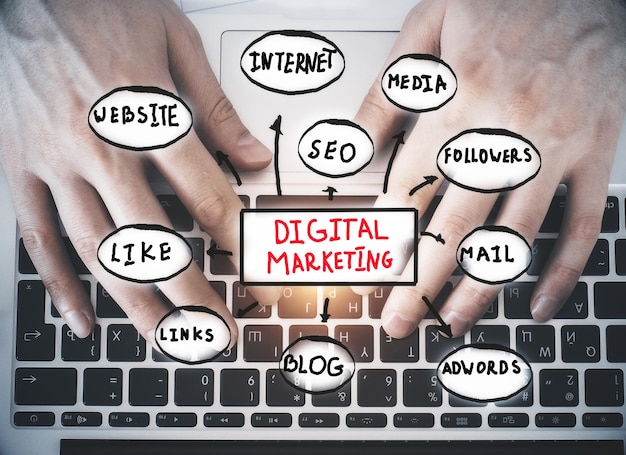 Artificial Intelligence As One of The Future Digital Marketing Trends
The method of creating intelligent computing systems that carry out tasks like those of the organic brain is known as artificial intelligence. Every industry uses AI to understand client requirements and expectations, automate corporate processes, and acquire a commercial edge. It is also used to monitor consumer trends, identify purchase habits, and create effective marketing plans.
Additionally, customer and marketing-related duties like content production, ad tracking, customer interaction, etc. are carried out using AI technologies like artificial intelligence and deeper understanding.
Video Marketing, The Evergreen Digital Marketing Trend For 2023
A powerful digital marketing technique for companies looking to grow their consumer demographic is video marketing. They are thought to be more efficient than every other form of digital marketing. Because they are simple to view, visually intriguing, and educational, videos are a digital marketing trend for 2023.
Short-form video material has been included in the algorithms of several social media platforms, including Instagram, YouTube, and Facebook, to help advertisers engage their desired consumers.
Metaverse, The Other Futute Digital Marketing Trend
The term "metaverse" refers to a wide range of technological interactions. It is described as a 3D-enabled underworld that makes use of cutting-edge methods like virtual reality (VR), augmented reality (AR), and other cutting-edge internet technologies to let customers encounter a brand digitally. Metaverse employs VR and AR, but it doesn't indicate you can't use your computers, smartphones, or other internet-connected devices to navigate it.
India is only placed sixth among nations in terms of its interest in metaverse initiatives, India is anticipated to play a significant role in the Metaverse due to its growing youthful humanity, vibrant start-up environment, and vast skill base.
One of the Popular Digital Marketing Trends For 2023, Long-form Content
Long-form content may provide viewers with comprehensive and deep knowledge of a good, assistance, or brand. Long-form content is a digital marketing trend to watch for in 2023 since many B2B digital marketing trends and B2C digital marketing trends advertisers have discovered that it may be more successful than short-form material.
Pro-tip:
Short-form content is less successful than lengthy materials because long-form material fosters client participation and brand awareness
A sort of content marketing known as lengthy content comprises blog posts or articles with more than 3,000 words
Advancement Web Pages
Advanced web pages are online websites that may be accessed offline, load more quickly than traditional web pages, and offer push alerts. The requirement for websites with top-notch user experiences has been solved by the progressing web page. Digital Marketing Trends for 2023, is anticipated that the newest trend in digital marketing will intensify.
Chatbots
People may swiftly and readily get acquainted with chatbots without the assistance of a person. Chatbots' key features include their worldwide appeal, round-the-clock accessibility, ability to automatically respond to clients' most common inquiries, and assistance with marketing choices.
Mobile Optimization
Marketers that want to increase the online presence and reach of their business are thinking about mobile optimization. It enables them to give their consumers compelling mobile surfing encounters. To draw a target audience to your smartphone app, mobile optimization might become an essential marketing tactic.
Live broadcasting
A new trend in online marketing is live broadcasting. Due to the direct audience connection, it can grow into a significant marketing trend. It enables the audience to connect.
Finding future digital marketing trends in digital marketing is never easy. However, recognizing them is crucial since it enables you to keep up with new advancements and adjust to changes. Identifying trends requires knowledge and training, which may be acquired by enrolling in an advanced course. You may learn several trendspotting strategies from these sophisticated programs, which can assist you in spotting patterns.